The chief architect of Barack Obama's socialist agenda, Valerie Jarrett, was in the Atlanta area to campaign for anti-gun Dem governor candidate Stacey Abrams over the weekend.
All reports indicate Abrams WILL BE the Democrat nominee here in Georgia — the most radical, left-wing candidate in the history of the state.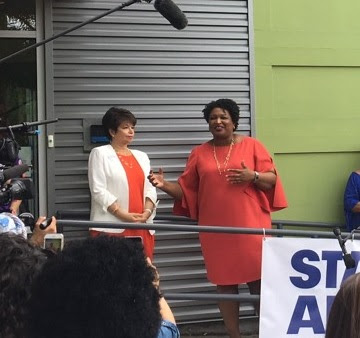 For the record, in the last month, Valerie Jarrett, Kamala Harris and Bernie Sanders have all been in the state to campaign for her.
Bloomberg, Soros, Obama, and the gang will pump big money in before it's all said and done with.
Let me be clear — Georgia is one of, if not the top target state, for the commies in 2018.  If you go to sleep out there, they will take everything they can get.
Abrams is openly campaigning to ban so-called "assault weapons", and is a long-time cosponsor of legislation to ban all "semi-autos" and limit "magazine" size.
We'll get some clarity as to who the Dem nominee will be after the votes are counted on Tuesday, two days from now.
If it's Abrams, you better be ready to fight politically with everything you have.
We've been in the planning stages for our 2018 general election program for months now, and have a plan to expose Abrams' gun-grabbing ways to millions of Second Amendment supporters statewide.
But we'll certainly need your help.  Please join today!
Thanks — in advance — for your support!
For freedom,
Patrick Parsons
Executive Director
Georgia Gun Owners